---
Jun 30, 2008
Ten traps of the IDOLM@STER (abbr. IM@S) for beginners
*

Ten traps of the IDOLM@STER (abbr. IM@S) for beginners
Q: The iDOLM@STER is an ADV game (adventure game), right?
A: The IM@S is a competition game with developing units. This game needs strict strategy and tactics in a battle against both human and computer. A scene comparable to a pretty girl leading to a bonus scene can be a mah-jong game with strip. You don't get anything till you win. However, you can touch idols' breast.
Q: If I buy the IM@S, I'm able to let idols sing my favorite songs, aren't I?
A: No, you let them sing only sixteen songs which are included in advance (and the songs added as downloadable contents (abbr. DLC) in the L4U). Most movies you can watch in "Nico Nico Douga" are made by crowds of producers' (they are called "P") "Perverted" (rabid) labors and passions. We can't help but admire them with "Perverted" honor.
Q: Is The IM@S a game which players develop idols?
A: The status of idol is reset to initial state each time. Players develop themselves rather than idols. Accumulated know-how and memories of the one-time-only days they spent with idols turn into advantage.
Q: I can make out with the idols, right?
A: You can choose actions fifty one times once in a game, and you aim to get over one million fans. You can get fans by passing auditions, however the number of fans you can get once an audition are from thirty to fifty thousand at a maximum. Of course you should let them have lessons to prepare for the auditions. Point being, though, you don't have enough time.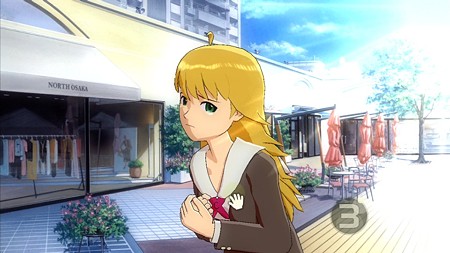 Q: Is it wrong to touch the idols' breast?
A: To touch their breast will surely cause many penalties. This game is severe balanced, so the penalties are not overlooked. To begin with, a hero of "POLICENAUTS" touched breasts many times, or in the Hentai games you like ...
Q: Why should I squeeze my money for DLC?
A: Don't get the wrong idea. There are DLC, CDs, birthday goods, books, live show tickets, and related games, etc, so you have to pay for all things. In addition, you need large amount of money to buy a high class monitor, high performance PC for capturing movies, stereo set, and so on. And last but not least, DLCs are accessories. If you don't buy them, there is no effect on the game.
Q: Why should I get a Japanese Xbox 360 just for this?
A: Believe it or not, the Japanese Xbox 360 can play most American games. Plus, you may spot a few other Japan-only games that you may be interested in. And how about joining in the Japanese community and broadening your horizon? Surely it's an experience that you can't get any other way.
Q: This game has been marketed for more than one year, so does it go out of date?
A: Few player see all scenes and read all mails received from idols, because the time to play is limited. So much to do, so little time. Even now, there are many events of online versus matches from season to season. This game is far from outdated.
Q: I heard that the IM@S gained a bad reputation from reviewers of Fami***. Should I follow them?
Q: If someone tells you to jump off a cliff, would you do it?
Q: Is the heroine of this game Miki Hoshii?
A: Of course, it goes without saying that a heroine is M...Haruka!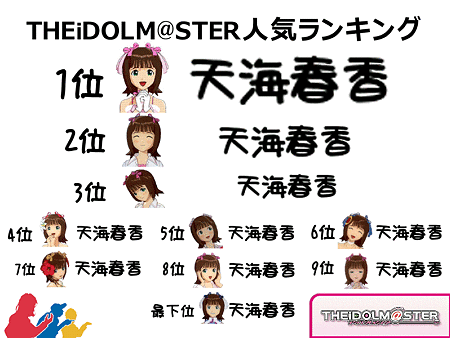 Haruka Amami 5071 votes

Mr. Producer, I'm number one, number one!

Haruka Amami 3072 votes
Haruka Amami 1802 votes
Haruka Amami 721 votes
Haruka Amami 514 votes

I'll do my best from now on!
I made clear and short answers for general misunderstanding about the IDOLM@STER. So for those of you that hesitate, just break open you piggy bank and go to a game store (online if you need to import it).
This article is translated from "はじめてのC(Hajimete no C, beginning of C)". Edits by Benpc91.
---